All-In-One platform that allows you to plan, execute and monitor actions of your marketing, sales and services teams.




Reduce the time your teams spend on automated tasks in an integrated environment.



Align your teams to handle the same information and improve the experience provided to your customers.



It allows you to more clearly visualize the return on investment in real time.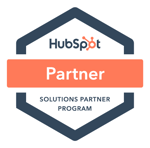 We are HubSpot Solutions Partners, which certifies us as a qualified agency to offer you and manage the tool.
Our staff is qualified and certified by HubSpot in the use of its platform and development of inbound strategies.
Save up to $ 6,000 in implementation costs. We offer you lower rates.
We have experience in implementing HubSpot with other clients, as well as developing inbound strategies.
Your marketing, sales and service teams

will thank you
Teams require tools that allow them a positive workflow and experience throughout the buyer's journey. The friction in the process and the lack of information shared by the teams will mean that customers will not feel comfortable and do not get a pleasant experience.

With HubSpot and its Marketing, Sales and Customer Service modules, all your areas will be aware of what is happening and will be able to share and complete the information at the right moment of the customer's purchase process.